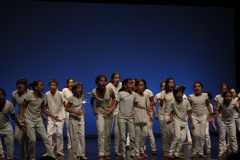 On September 22 and 23 I went to the Belém Arts Centre to see two performances of the Música Viva Festival. The first one told a story of a "water droplet"; the second one was saying: "Ce désert est faux". And in fact, I was irrigated with multiple threads of creative imagination, awakening the seeds of life, which the daily routine, the political disgust or the professional annoyance, tend to dry out.
In both cases the performances, conceived as scenically integrated sequences without interruption, were expressed under the auspices of Constança Capdeville (1937 – 1992), who was the Portuguese pioneer of the concept of musical theatre. On Saturday, the Lisbon University Children Choir (CIUL; together with the respective preparatory Choir) began precisely with a rarely presented work by Constança, "O Natal do Anjinho dorminhoco" ("Christmas of the Sleepy Angel"; 1963), a short theatrical story told through music, of exemplary sensibility and conciseness. The piece was followed by a well-succeeded triptych by Vasco Negreiros, "A Pulga; O Tigre; a Velha" ("The Flea; The Tiger; The Old Woman"; 2007). "A Canção" ("The Song"; 2011) by João Camacho and the surprising "Era uma vez" ("Once Upon a Time"; 2012) by João Lucena e Vale reaffirmed the vitality of the contemporary creative scene, showing one more time that in demanding and talented hands, artistic complexity is perfectly compatible with communicative effectiveness. Three older works, but always fresh of invention (two arrangements by Fernando Lopes-Graça and the "Geographical Fugue" by Ernst Toch), were one more occasion for the CIUL to confirm, under the inspiring direction of Erica Mandillo, their interpretative excellence.

A piece by Simão Costa based on the story of Isabel Martins, "Quando eu nasci" ("When I Was Born"; 2010), for narrator (Ágata Mandillo) and live electronics complemented the first part of the concert. Together with the multimedia work by Miguel Azguime, which occupied the second part, "A Menina Gotinha de Água" ("The Little Girl Water Droplet"; 2011), it allowed us to appreciate the capacity of putting electronic means in a creative dialogue with the spoken discourse and singing, building up expressive and quite suggestive environments. We were left nevertheless with the feeling, possibly derived from other paradigms, that the duration of this dialogue is sometimes too long, and the polyphony of ideas less dense than in compositions intensely moulded by the agility of writing.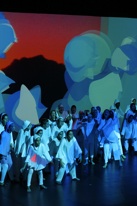 Agility of writing, corresponding with an almost-divine imaginative passion, is certainly what did not lack in Constança Capdeville. The permanent delusion of expectations, which she used to employ, resulted from a deep nonconformity, and was connected to a surrealistic impulse, which used to crop up naturally: surrealism was close to her, both ideologically and biographically (she even used to recall going to the same beach as Salvador Dali). To this she used to add her appreciation of world music, her wide knowledge of the western musical tradition, which she often alluded to in new pieces, as well as an ear educated in concrete music, allowing her to integrate in the discourse, and manipulate freely, any kind of sound. Her immersion in the sound matter, as well as superb taste for shades of pitch and timbre, co-existed, however, with sheer spirituality, which, together with her uncommon intellectual power of penetration, sustained a paradoxical critical distance.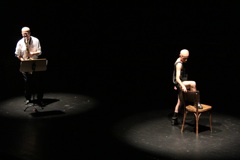 The performance conceived by António de Sousa Dias, Constança's former student, based on various of her works ("Momento I", from 1974, and six scores composed between 1986 and 1989) was fully achieved with the collaboration of the Lisbon Contemporary Music Group (conducted by João Paulo Santos) and of other composer's old friends: Nuno Vieira de Almeida (piano), Luís Madureira (singer), Carlos Martins (saxophone), Pedro Wallenstein (double bass) and João Natividade (dancer). It is a shame that there is no project collecting the interpretative information, which would permit passing to new generations the possibility of musical and theatrical reconstruction of great part of Constança's work. Its setting-up, being frequently made up of disjointed parts or depending on momentary indications and associated to partially undetermined writing, presently poses great doubts for stage realization. Twenty years after her death, such project would be probably the best homage one can think of.
---