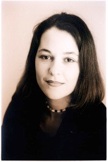 Jelena Novak studied Musicology, Art Theory and Theory of Media at the University of Belgrade, where she took degree in musicology and completed her master's thesis in opera at the age of media. She is a PhD candidate at the Amsterdam School for Cultural Analysis (ASCA). She also attended School for History and Theory of Image and School for New Theatre and Dance in Belgrade. Jelena Novak is founding director of CHINCH, Initiative for Research and Production of Contemporary Music, Live and Visual Arts as well as founding member of Walking Theory, a group for theoretical and artistic research.
Previously she worked as teaching assistant at the University of Arts in Belgrade, music editor at Radio Belgrade as well as librettist, dramaturgist and manager of music theatre performances.
Jelena Novak is a member of the steering committee of Society for Minimalist Music (minimalismsociety.org), research group member of Center for Studies on Music Sociology and Aesthetics (CESEM, University of Lisbon) and member of the Nutida Musik editorial board (Stockholm | www.nutidamusik.se) and The Musical Wave (Belgrade).