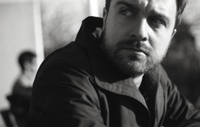 Polish musicologist, who graduated from the Institute of Musicology at the University of Warsaw in 2006.
Since September 2010 he has been a collaborator of Miso Music Portugal, in which he works in the production, promotion and critique field. He is responsible for the editorial coordination of the "New Music Review Lounge".
Apart from contemporary music creation (his thesis concerned various aspects of Philip Glass´s music for cinema) his interests also include Portuguese culture, which despite many differences (especially by geographical and historical reasons) has various features similar to Polish. As and investigator he is particularly interested in these points of convergence and divergence between the two cultural and musical realities.