"The history of sonic arts is charged with transgressive practices that seek to expose the social, aural and cultural thresholds across various listening experiences, posing new questions in terms of the dialogue between listener and place. Recent work in sonic art exposes the need for an experiential understanding of listening that foregrounds the use of new personal technologies, environmental philosophy and the subject–object relationship."
[1]
Pedro Rebelo was born in Viseu (Portugal) in 1972. His musical education began with private piano lessons and later he entered the Viseu Conservatory. "When I quit my piano lessons I began getting involved in such projects as rock, jazz and pop bands, performing with a different type of people and concentrating, essentially, on improvisation. Then I came back to the Conservatory and it was more or less at this point that I decided to explore improvisation and composition at the same time."
[2]
At the age of 19 Pedro Rebelo, in search for composition lessons outside Portugal, chose the University of Edinburgh where he concluded a general Music degree with a strong component in Composition. Pedro Rebelo's work and activity is characterized by interdisciplinary research, having collaborated in diverse projects with visual artists and architects. One of the central themes of his investigation is the relation between architecture and music, which has motivated the creation of installations and interactive works. "My research activity reflects cross-disciplinary interests while intrinsically relating to my work as composer and digital artist. My output as creative artist helps to establish a framework for investigation in the realm of cultural theory, technology and design. My research into notions of design in music and architecture, led to fruitful work which has proven crucial to the discussion of new media forms such as interactive art installations."
[3]
Pedro Rebelo's composition catalogue includes a series of commissions of works for solo instruments and real-time electronics, which are based on the interpretation of particular acoustic spaces. In the context of the l a u t Duo, cofounded in 1999 with the saxophonist Franziska Schroeder, he dedicates himself to improvisation and performance of works with electronics and multimedia, having developed various control interfaces for interactive performances. His electroacoustic music has been released under various international labels, such as Sonic Circuits IV, Discontact III, Exploratory Music from Portugal, ARiADA and Miso Records. Pedro Rebelo is researcher, lecturing Interactive Sound and Composition. His publications reflect his attitude towards design and composition articulating creative practice with broad relation towards theory of culture. He was awarded a PhD at the University of Edinburgh with the thesis "Musical Composition and Virtual Architecture" under the orientation of Peter Nelson and Richard Coyne. Presently he is a Professor and Director of Research of the Sonic Arts Research Centre (SARC) at Queen's University Belfast.
Notating the Unpredictable[4]
Pedro Rebelo's music constitutes a field for research and experimentation in what concerns the relation of art with new technologies as well as interdisciplinarity. The composer maintains collaborations with visual artists, developing graphic notation, which also possesses a strong aesthetic and visual aspect. The works with graphic scores are structured like "normal compositions" but notated in a bivalent manner. " (…) it is not notation which has a traditional reference point"
[5]
, emphasises Pedro Rebelo, who began developing this type of investigation in the context of his Master Degree and PhD thesis. The objective of such work is to create installations and performances that involve different types of improvisation and notation strategies, attempting to leave, as much as possible, the tradition of music for fixed media as well as to explore, through various works, "the notions of design and architecture, their relation towards music, as well as space and new technologies in relation to music."
[6]
Improvisation – the Liberty of Error
Live music is a fragile situation in space and time, which, according to Pedro Rebelo, should not simply be a repetition of music that already exists in the composer's imagination or in the score, since it contains in itself the possibility of error. The systems situated between composition and improvisation include this "risk of mistake" in music, in the way that performance does not become only a form of expressing the score but it is, above all, a form of expressing the "risk". "It is sometimes, in its extension or by acting against it when interesting musical cultures take place"
[7]
, emphasises Pedro Rebelo. It is, for example, the case of extended techniques, of all the noises and "undesired sounds", which instruments can produce and which came to make part of the contemporary music language. What interests Pedro Rebelo is not the noise in itself, but the fact that it is realized with a violin or a flute, or any other traditional instrument, creating in this way a different quality, for which the instrument was not designed. "[For me] improvisation began seriously perhaps before going to Edinburgh and still during the first years in Viseu, when I began performing free jazz (…). [In these formations] one creates conditions for a determined type of music to happen, but does not necessarily create the specific materials, for it to take place. I think these ideas remained in my musical method. When I started creating formal compositions, in a more serious way, I always tried to include an aspect of freedom in performance, which has to do more with creating conditions for music to happen. This goes beyond reading what is written, or executing what has been performed before."
[8]
Musicians in the World of Machines
Within the l a u t Duo, founded together with the saxophonist Franziska Schroeder, Pedro Rebelo, as performer of electronic systems, explores various types of composition and improvisation, developing pieces with varied formal structures. Apart from his own music the duo has also works written by other composers, especially for the project. This unique experience reveals the interpretative aspects of "computer on stage", since it is a generalized system which was not created particularly for music. "Something I have been trying to do recently", says Pedro Rebelo, "is (…) to forget the idea that the computer is a universal machine and can have an orchestra of sounds inside. I'm trying to do the opposite by creating much simpler things in terms of sound, which gives me the option, as performer on stage, to react to specific environments."
[9]
As researcher, performer and composer, Pedro Rebelo is particularly interested in the interaction and gesture between musicians playing traditional instruments and performers of "a certain form of new technology"
[10]
, analysing in this context the situation of performance. "Oscillation" (2003) is one of the pieces exploring precisely this issue through the use of a motion capture system used in computer animations. "An instrument (…) comes with a tradition of determined gestures, but if a person raises hands in front of a piano there is a certain expectation that something will happen in terms of sound. It is not always the case on a computer, as it is not necessary to make a significant gesture for a grand sound to be realized. I think that it is an interesting situation, the fact that we have the possibility to do the same thing as on a traditional instrument: expand the gesture and create a system, perhaps redundant, but in a way assume that there is a certain importance in performance gesture. Or perhaps do the contrary: design a system in which gesture is minimal, but sound has enormous possibilities."
[11]
Pedro Rebelo's works can be divided into various groups, in the context of which the composer explores different problems of compositional nature, concerning the implementation of new technological means. These include electroacoustic music composed and manipulated through sound sources of various types, which also includes improvisation, such as "3 Shorts About Noise and Rhythm" (1998) and "4 More Shor(t)s" (1999); instrumental works with electronics, for which different architectonic places and spaces create specific resonances and frequencies, constituting a departure point for an harmonic spectrum ("Águas Liberas" de 2001, "x\Hailes" de 2001); "musical prosthesis" projects, "Music for Prosthetic Congas" (2004), "Prosthetic Oil" (2005) and "Shadow Quartet" (2007), putting the musicians in a situation,in which they have to react to a prosthetic system – "a prosthesis structure creating an alternation to the acoustic system, which can be substituted". "An arm prosthesis has as its function the substitution of the natural arm, yet the body can react to it in various ways: it can reject it or can have reactions more interesting, than a simple substitution."
[12]
More recently, Pedro Rebelo has explored the concept of dramaturgy in virtual networks as a new mean for performance, taking into consideration aspects such as collaboration, authorship, presence and environment
[13]
[for example in pieces such as "Disparate Bodies" (2007-08), "Netrooms: The Long Feedback" (2008) and "Netgraph" (2010)]. "The net's performativity and the notion of community are particularly exposed in music as an intrinsic social practice. Music making therefore provides crucial critical perspectives in the discourse of the network's performative condition and can aid in answering the question of the net's performativity in a wider context. (...)When considering the network as a medium for music performance, one is often mislead by the fallible metaphor of the unlimited, the infinite and the global. This framework for thinking about music-making tends to be conditioned by the flawed promise of the smooth and infinite conditions of the network, as it seduces performers into expecting undisrupted access to the infinite."
[14]
More recently Pedro Rebelo, together with Rui Chaves, Matilde Meireles and Aonghus McEvoy has realized a community project and exhibition,
"Sound of the City"
, commisioned by the Metropolitan Arts Centre (MAC) and led by the artists from the Sonic Arts Research Centre (SARC), Queen's University Belfast. The project explores the relationship between sound and community, uncovering the sounds of everyday life and the ever-changing Belfast soundscape. Over four months, the SARC artists worked with two intergenerational groups in Belfast to capture the unique sonic qualities of the city's places, events and stories. The project has been brought to life via five sound installations that can be heard throughout the MAC. The installations explore daily life in Belfast from the industrial heritage, to the local family home through identity and memory.
Pedro Rebelo's Official Website
SOUNDCLOUD
Pedro Rebelo on YouTube and Vimeo
"Exposure 4.1"
Interview
Quasar - quatuor de saxophones April 1, 2010 Les Mutations Dynamiques
"Prosthetic Oil"
Perfromed by Renzo Spiteri Valletta Malta 2005
"Prosthetic Oil"
Interpretado por Renzo Spiteri Valletta Malta 2005
Examples of graphic scores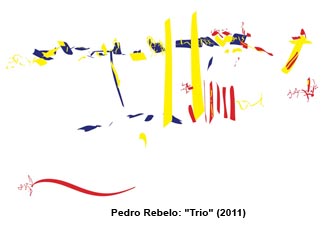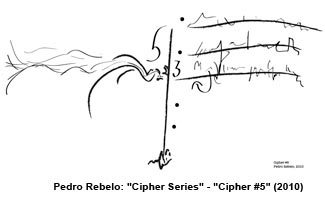 ---
1
Rui Chaves and Pedro Rebelo, "Evocative Listening: Mediated practices in everyday life", Organised Sound – An International Journal of Music and Technology, Cambridge University Press 2012
2
Interview to Pedro Rebelo conducted by Miguel Azguime at the Miso Music Portugal:
mic.pt
, 2008; English translation: Jakub Szczypa
3
Pedro Rebelo in:
pedrorebelo.wordpress.com/writing
4
Pedro Rebelo, "Notating the Unpredictable", Contemporary Music Review 29 no. 1 (2010), p 17-27
5
Interview to Pedro Rebelo conducted by Miguel Azguime at the Miso Music Portugal:
mic.pt
, 2008; English translation: Jakub Szczypa
6
ibidem
7
ibidem
8
ibidem
9
ibidem
10
ibidem
11
ibidem
12
ibidem
13
Pedro Rebelo, "Dramaturgy in Network", Contemporary Music Review 28, no. 4, p. 387
14
Franziska Schroeder, Pedro Rebelo, "Sounding the Network: The Body as Disturbant", Leonardo Electronic Almanac 2009, p. 2 and 5